Hi! I'm Nae. I like to make things. All sorts of things. Whether that means sitting down at a computer, leaning over a workbench, or heading outside, I just deeply enjoy the process of making. I've been making things since I was a kid, when my favorite pastimes were crafting origami and sewing my own stuffed animals. As soon as I was introduced to a computer, I taught myself HTML and made my first websites when I was nine years old. I didn't have any kind of grasp on color theory or the principles of design at the time (what's up, black starry .gif backgrounds?), but I dove in head-first and have enjoyed every second of the adventure I set off on.
As I went through grade school, I leaned heavily towards photography and digital design. After exhausting my high school's art courses, I was allowed to dual enroll in Lansing Community College to further explore my interest in design. I believe that studying typography at LCC with a set of French curves, straight edges, and micron pens gave me confidence to pursue design at the collegiate level. I was accepted into the University of Michigan's School of Art and Design where I explored a wide variety of art forms and design concepts, techniques, and methodologies.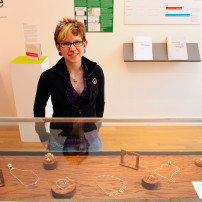 At U of M, I focused heavily on metalsmithing and digital design while dedicating a lot of my time to photography and woodworking and even dabbling in game design and sculpture. For my thesis I created a series of jewelry pieces focusing on space and the concept of being whole. I crafted beautiful slabs of mokume-gane for this project which has since become my favorite type of material to work with.
After university, I moved to Austin, TX with the hopes of finding a design job. In the mean time, I took a role as a Jr. Systems Administrator at Hostgator.com to pay the bills. I ended up falling in love with helping hosting customers and providing the best customer experience possible. After working my way up through the company I became the Director of International Operations. I spent most of my time in Southeast Asia working with our staff on everything from training and policies to project management and system development. After almost three years, I was eager to return to my roots and moved across the country to Seattle, WA to reinvest in my passion of design.
I've developed a small brand, Beandog Labs, named after my furry companion and best friend Baxter. While I initially started by creating fan art and entirely customized products for fans who couldn't find that one item they really wanted, I am moving into creating an entire product line with my own characters, designs, and patterns. It has been an extremely rewarding process and challenge and I can't wait to see where it goes!